Frequently asked questions
Before Booking
Do you have any kit for hire?
---
There's a small fleet of bikes that can be hired. Always enquire before booking to confirm availability. Helmets, gloves & knee pads are also available.
---
Why such a small group size?
---
Whilst permitted to take 8 riders, the group size is generally set at 4 riders. By having a small group, each rider gets more individual observation and feedback. It also means we get to ride more - the bigger the group, the longer it takes to session a feature or even ride an entire trail. That means less hanging around and more riding.
---
How are your rides different from other providers?
---
Firstly, they're all super chilled out, non-competetive and very sociable Now let's split them into two categories.
Skills Tuition For the beginner levels, it's all about learning by doing and not really noticing you're being taught. Tuition is informal and fun with the emphasis being on getting riders hooked on riding for life. Intermediate and advanced sessions get a bit more focussed skills development but trail riding forms the majority of the session.
These sessions will always be out on the trail as there's simply no better environment to develop your trail riding - sounds obvious doesn't it? For some kids, riding with HBA is the only time they get out on the trails. Therefore it's really important we fit in as much trail riding as we can. There's no point perfecting a manual front wheel lift if you never get the opportunity to use it.
Guided Rides

Either a Big Day Out or a Night Ride. These rides are all about good times on bikes. There's a fair bit of autonomy too; if the group wants to spend a bit more time sessioning a feature, that's cool. If we want to press on to the next trail, that's fine. For most of these rides there will be a defined start and finish with the rest of it decided by the group as a whole.
---
Which Level should I book?
---
Have a read through the following to help you make a decision. Whilst it's really difficult to advise the most suitable level for a rider without seeing them ride, do get in touch if you're unsure. It's really important riders get on the right level for them. Level 1 (Beginner) Covering the core skills of pedalling, using brakes and riding in a group it's aimed at younger kids or those transitioning from balance bike to pedal bike. Terrain: Wide, smooth and mostly flat forest paths. Bike: Most bikes the correct size for the rider, it may only have 1 gear - that's fine! Level 2 (Beginner) For Level 2 riders will be confident riding with others and on a variety of surfaces. The focus on Level 2 is getting them riding in the attack position of pedals level & standing up. This allows them to move their body weight around to stay stable on rough terrain. We also cover effective braking and using gears. If riders are new to off-road trail riding, this may be the best place to start. Terrain: Woodland trails with some lumps and bumps get introduced. Bike: A decent kids mountain bike with wide, grippy tyres is what you're after. Suspension isn't required. Level 3 (Intermediate) Spot on for riders that have already mastered the attack position and have experience riding natural singletrack trails or green and blue graded trails. We'll start to cover mountain bike specific skills such as manual front wheel lifts, drop offs and wheelies. Terrain: Blue and red graded trails as well as natural singletrack with roots, rocks and medium steep gradients. Bike: Lightweight bikes with wide, grippy tyres. Bikes with disk brakes and a suspension fork are ideal. Levels 4 & 5 (Advanced) Riders looking to join at Levels 4 & 5 will be able to demonstrate front and rear wheel lifts and have a broad range of trail riding experience. They'll be confident with both wheels leaving the ground and are used to continually riding at a similar pace to the instructor. Terrain: Black graded trails as well as fast technical natural singletrack with mandatory drops, jumps, roots and steep sections.
Bike: You'll need a quality bike with good suspension, hydraulic disk brakes and decent tyres. A modern hardtail designed for trail riding is fine. Also consider how they ride a trail, not just the type of trail they ride. For example, the orange trail at Learnie has some big features yet I've seen kids ride down on a balance bike. Clearly the riders that clear all the jumps and ride all the drops are different to the wee one on the balance bike. That's quite an extreme example but beginner and intermediate riders can all get down that trail in one piece but may not be riding at the level of ability the trail is designed for.
---
How does Go MTB tuition differ from coaching?
---
I see Go MTB awards as the syllabus and it's up to individual providers how they deliver that. For me, it's all about trail riding, learning by doing and, most importantly, good times on bikes. Coaching is all about ehnancing performance (think race performance) and takes into account various factors such as nutrition and psychology. Most riders aren't looking for this and the trail based, chilled out learning of Go MTB is ideal for them.
---
Do I have to be a member?
---
No, HBA isn't a club. You can book on whichever rides suit you. There's no commitment to anything regular.
---
What's your qualifications, experience and insurance?
---
Level 3 British Cycling Mountain Bike Leader
British Cycling MTB Night Leader Go MTB Level 5 Instructor Velotech Cycling Ltd Gold Mechanic Bikeability Instructor Outdoor First Aid Educare's Child Protection Awareness in Sport and Active Leisure PVG Scheme Member I've been an active MTB leader and instructor since 2015 and have worked with schools & youth charities to provide great biking activities.

Liability and professional indemnity insurance policies are held with British Cycling and Cycling UK.
---
What type of bike is needed?
---
For beginner levels, most kids mountain bikes will be fine. Having a suspension fork isn't essential but wide, grippy tyres are perfect.

Into the intermediate and advanced levels, a decent hardtail with a suspension fork, grippy tyres and disk brakes is ideal. A full suspension is definitely not essential, hardtails are amazing fun!
---
---
After Booking
How do I check my bike before the ride?
---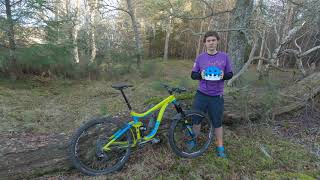 There's a handy video for that!
---
Help! There's an issue with the bike! Can you fix it?
---
Possibly. Get in touch as soon as you can and we'll see what we can do.
---
Will a ride be cancelled because of the weather?
---
Only when the weather poses a significant risk. You'll be given as much notice as possible. Don't be shy to bring a load of spare clothing. Changing facilities are available; being in wet clothing for hours can get miserable and potentially even dangerous. Additionally, having extra layers to put on during breaks/lunch is essential in all but summer conditions.
---
Will we be having lunch?
---
The 6 hour Big Day Out rides will include a scheduled lunch break. This may be out on the trail or back at the car park, depending on the venue. You're encouraged to bring some hot food in a food flask during the colder months. For all other rides, there won't be a scheduled lunch break but feel free to bring your lunch. We will be having short breaks to refuel and there will be time to have at least some of your lunch.
---
---